We currently only provide Mammography services at our Maryville Imaging location. They are not yet available at our Goshen Campus. Those services will be coming in 2023.
3D mammography, also known as digital breast tomosynthesis, is a form of medical imaging that utilizes low dose X-rays and computer reconstruction to create 3D images of the breasts. This advanced technology is vital to the early detection and diagnosis of breast cancer.
What is the difference between 3D mammography and standard X-ray mammography? Standard X-ray mammograms take images of the breasts from top-to-bottom and side-to-side, and this compression may cause an overlapping of breast tissue. The overlapping can result in hiding possible abnormalities in the breast, which could lead to a potential misdiagnosis. At Maryville Imaging, we utilize 3D mammograms for the most accurate results for our patients. This method of mammography uses an X-ray tube to move in an arc over the compressed breasts. The scan produces a set of 3D reconstructed images, which allows for a more accurate diagnosis.
Diagnosing Breast Cancer with a Mammogram
According to the Centers for Disease Control (CDC), breast cancer is the second most common cancer among women in the United States. Mammograms are one of the best tools available for detecting breast cancer at its early stages when it is most treatable. According to the American College of Radiology, mammography has helped reduce breast cancer mortality by nearly 40% in the U.S. since 1990. This statistic speaks for itself. Mammograms save lives and that is why we encourage women to be proactive in their breast health and stay on top of their routine mammogram scheduling.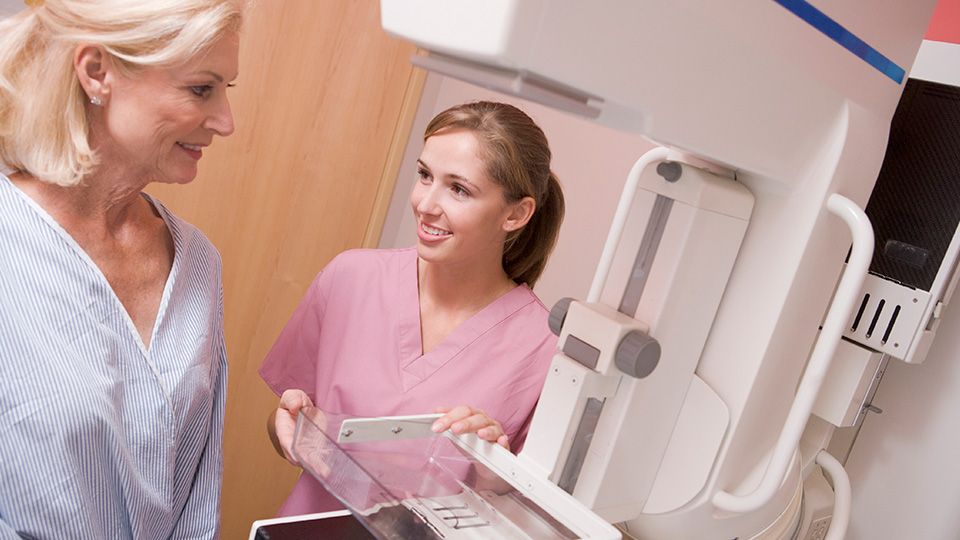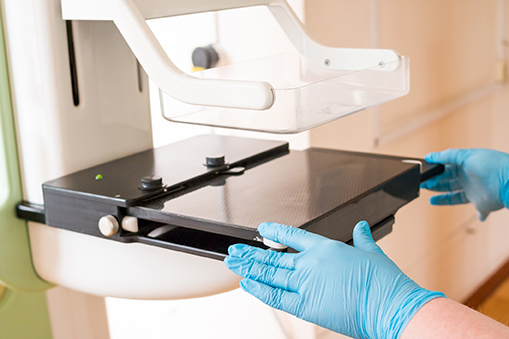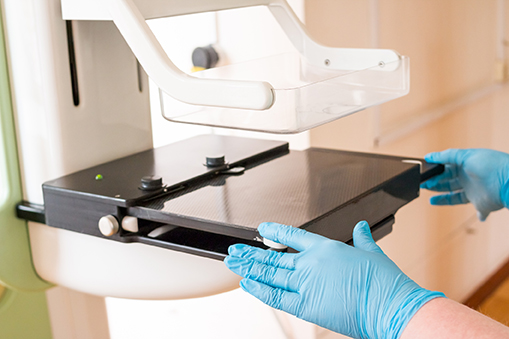 When Should I Start Getting Mammograms?
The United States Preventative Services Task Force recommends that women who are 50 – 74 years old and are at average risk for breast cancer get a mammogram every two years. Women who are 40 to 49 years old should talk to their physician about when to start their mammogram screenings. Regardless of your age, if you have a family history of breast cancer, you should talk to your doctor to determine at what age you should begin receiving mammograms and how often. 
What to Expect at Your Mammogram
Typically, a mammogram appointment takes approximately 30 minutes total. You will be asked to remove your shirt, bra and any jewelry and change into a hospital gown. The radiology technician will place your breasts on a compression plate, using a second plate to flatten the breast tissue to produce a better-quality image. Then, the 3D mammogram machine takes multiple images of the breasts at a variety of angles. A computer then processes all of the images to form a clear 3D image. During this process, it is normal to feel minor pain and/or discomfort. This will only be temporary. 
How to Prepare for Your Appointment
A mammogram does not require a lot of preparation. However, there are a few things that you can do to help your appointment go more smoothly. On the day of your mammogram, avoid wearing deodorant. The particles from the deodorant can show up on the images of the mammograms and could be misinterpreted as calcifications, which can be an early sign of breast cancer. This could lead to a misdiagnosis. Also, you might want to avoid wearing a dress and wear a skirt or pants instead, so that you will only need to remove your top and bra for the scan. When scheduling your mammogram, try to avoid the week before your period if possible as your breasts will be more tender then. 
Routine mammograms are a critical component of being proactive in your breast health. Don't push off scheduling your mammogram. Give yourself peace of mind and schedule an appointment today. Our team is available to answer any questions you may have.