Magnetic Resonance Imaging, also known as an MRI, provides high-resolution images without the use of radiation. An MRI scan is a non-invasive, fast, accurate, and painless way to produce images of the body. 
MRI screening utilizes magnets, radio frequencies, and computer photographic techniques to create a clear image of the body's internal structures. An MRI scan allows physicians to accurately detect and define the differences between healthy and damaged tissues. 
MRI is most effective in the clinical detection and evaluation of:
Knee and shoulder injuries
Spine, liver, and abdominal diseases
Eye, face, and neck abnormalities
Blood flow, vessel, and musculoskeletal disorders
What to Expect at an MRI Appointment
There are no special preparation requirements for patients prior to MRI appointments. Patients can eat and drink as they normally would on the day of their exam; however, we do recommend limiting caffeine intake as it could affect the functional MRI findings. Patients should also avoid wearing eye shadow or mascara to their appointment. Once at the clinic, patients will also be asked to remove all jewelry and metal objects. 
To begin, patients will lie down, typically on their back, on the MRI screening table. An MRI coil might be wrapped around the body part being scanned to act as an antenna of sort. The closer the antenna is to the area of interest on the body, the better signal the MRI receives, allowing for a clear, quality image to be produced. The table will slowly enter the MRI system where a rapid tapping noise will sound. This noise indicates the scan is acquiring the patient's image. The MRI technician will urge the patient to stay as still as possible during the scan to ensure the highest quality image possible. 
At Maryville Imaging & Goshen Imaging, we ensure all of our patients are as comfortable as possible during their MRI appointment. That is why we specialize in patients who are claustrophobic or those who may have difficulty fitting comfortably in a conventional MRI machine. Our clinics' MRI machines have the largest opening on the market: the High-field Wide-bore MRI. The opening is as wide as a hula-hoop, guaranteeing our patients a relaxed MRI experience. 
How Long Does an MRI Appointment Take?
The scan itself typically lasts 30 to 45 minutes. The radiologist may gather enough information to discuss the initial results with a patient after the test. However, patients can expect their complete results in 24 to 48 hours after their appointment.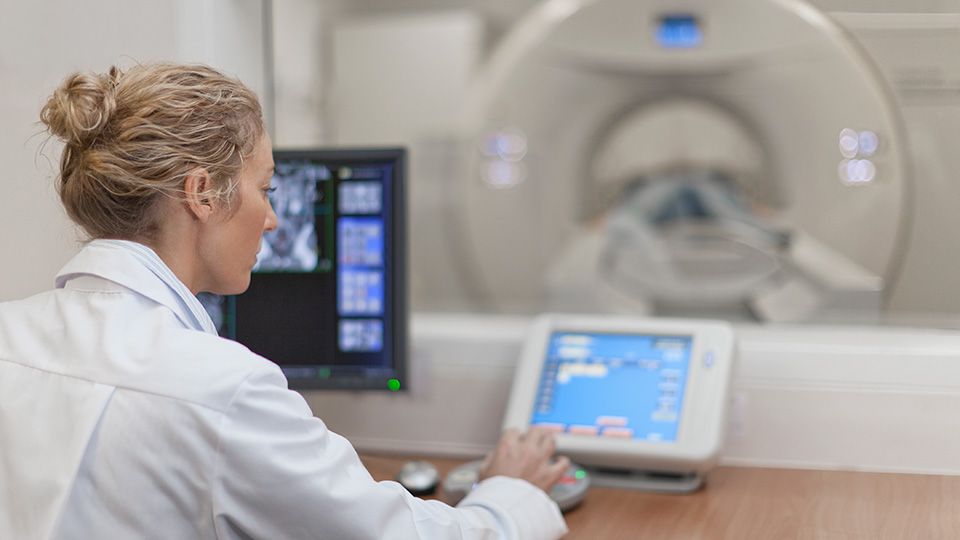 Schedule an MRI Appointment
At Maryville Imaging, our radiology team will walk you through every step of the MRI scan process so that you can feel comfortable and at ease throughout your entire appointment. If you have any questions regarding the procedure or insurance, contact us.