An X-ray is the oldest and most frequently used form of digital medical imaging. An X-ray scan is created by passing small, highly controlled amounts of radiation through the human body. This scan captures shadows and reflections on a photographic, or digital plate. 
X-rays allow physicians to perform a quick evaluation, often detecting diseases in the early stages, improving the chances for patient recovery. They can also rule out the presence of a disease, reducing the need for invasive surgery. When surgery is unavoidable, X-rays serve as a guide for surgeons so they can perform the operation effectively. 
What Can an X-ray Detect?
Doctors might order an X-ray for a patient to detect the following: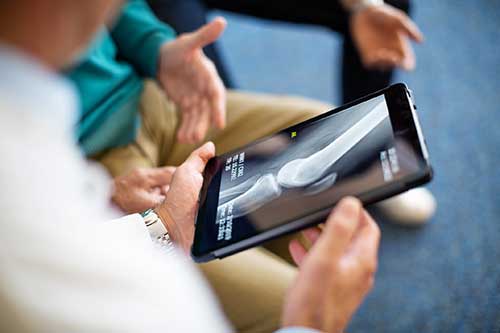 What to Expect at Your
Digital X-ray Appointment
At Maryville Imaging & Goshen Imaging, patients can receive an X-ray without scheduling an appointment. Walk-ins are available with a written prescription from a physician. An X-ray technician will assist you onto the exam chair or table. The radiologic technologist will place a film cassette (plastic plate) under the table or under the imaged area. Sandbags, sponges, or pillows may be placed around you to support and hold them in the proper position. Then once you are settled in, the technician will leave the room and head to the adjacent room. 
During the exam, you will be instructed to remain still, without moving or breathing, for a few moments while the digital X-ray machine scans the body. If necessary, the technologist might reposition your body multiple times and repeat the scan process to capture additional views. The entire procedure typically takes less than 15 minutes, and the results will likely be forwarded to you within 24 to 48 hours after the exam.
How to Prepare for
Your X-ray Appointment
Depending on the type of X-ray, you may be instructed to avoid using lotions, cream, or perfumes prior to the exam. You will likely be asked to remove any and all metal objects like jewelry, hairpins, or hearing aids. You should wear comfortable clothing to your X-ray; however, you might be asked to change into a hospital gown. For gastrointestinal (GI) X-rays, you should avoid eating or drinking several hours before their digital X-ray. 
Walk-In X-ray Appointments Available
At Maryville Imaging, X-rays are done on a walk-in basis with no scheduled appointment necessary. When you arrive at one of the imaging centers for an X-ray, please bring your written prescription from your doctor and your insurance card. If you have any questions regarding insurance, our team can answer them. Contact us.