What is a Bone Density Scan?
We currently only provide DEXA services at our Maryville Imaging location. They are not yet available at our Goshen Campus. Those services will be coming in 2023.
A Duel Energy X-ray Absorptiometry (DEXA) scan, also known as a bone density test, measures the amount of calcium in the bones and determines if the patient has osteoporosis. At Maryville Imaging, we provide bone density testing. This medical procedure is typically scheduled for older women who have entered menopause and suspect they are experiencing bone loss or older men who have a family history of osteoporosis.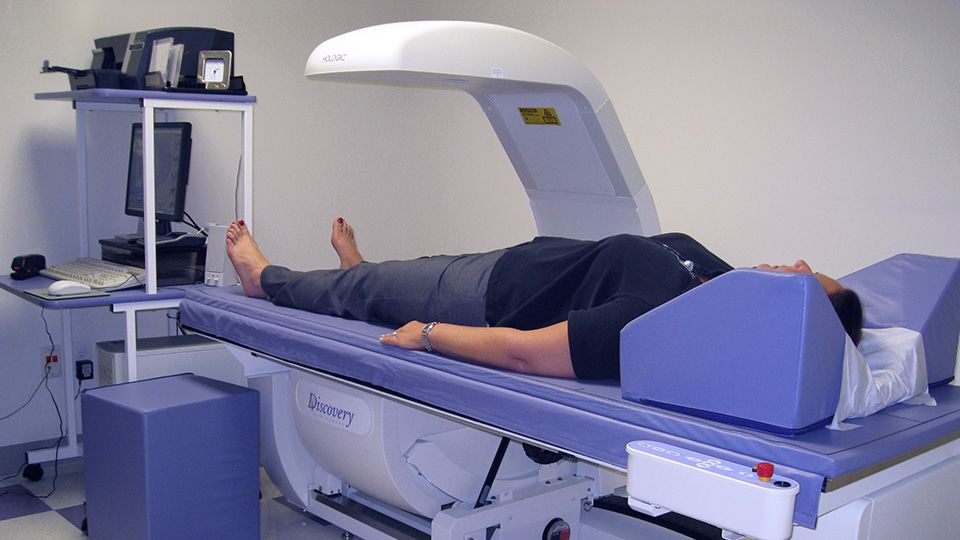 Diagnosing Osteoporosis with a DEXA Scan
Osteoporosis is a progressive disease that causes the bones to become thin and weak and can commonly result in bone fractures, typically in the hips, spine and wrists. This disease is most common in older people, specifically women over the age of 65. A bone density or DEXA scan will diagnose osteopenia (low bone mass) and osteoporosis. This imaging test can also determine if treatment for osteoporosis is working properly or not. 
Do I Need a Bone Density Test?
Women over the age of 65 years old should contact their physicians about scheduling a bone density test to ensure their bones are not thinning and they aren't at high risk for bone fractures. Men over the age of 70 years old should also discuss a bone density test with their doctors. You should also consider scheduling a DEXA scan if you have a very low body weight, have had one or more fractures after the age of 50, or have a family history of osteoporosis. 
Other risk factors that could lead to osteoporosis are: 
Lack of exercise or physical activity
Insufficient intake of calcium and vitamin D in your diet
If you believe you are at risk for osteoporosis, talk to your doctor about scheduling a bone density scan.
Take control of your bone health and contact us to schedule your DEXA scan. The exam is easy, fast and completely painless. Our team is available to answer any questions you may have about the procedure and what to expect at your appointment.